Fasting For Weight Loss & Health
Simple, Natural, Long-Lasting
Are you considering Fasting For Weight Loss and Health? If yes, congratulations!
You are on the starting point as to see a slimmer and healthier you - NOT for tomorrow or next month, but for the years to come.
Is it really? Yes. I have the real experience. I'm here to share my success story.
In fact, fasting for weight loss is simple, natural, healthy and with long lasting results, unlike diet pills or other exaggerated medical measures that may harm your health more than benefit.
This website is all about short term intermittent fasting. Therefore please don't be scared by the word 'fasting'. You'll still be eating EVERYDAY.
If you want to copy my success, I have all the resources in this website for your reference.
My Fasting Story
My incredible health journey began in early 2006 when I decided to go on fasting. I noticed I was losing weight progressively while my bloating problem gradually improved.
The two photos below were taken before and after fasting. The pink photo was taken the night before I started. Throughout these years, I have been implying periodic short term water fasting, juice fasting and intermittent fasting not only to lose weight, but to overcome compulsive eating which might have caused my over weight and bloating problem.
Indeed, I had one of the worst compulsive eating habits. I ate on time regardless I was hungry or not. There was nothing wrong with eating on time but it didn't seem to work for me. I thought there must be some better ways to eat….
continue to read my full story of fasting for weight loss.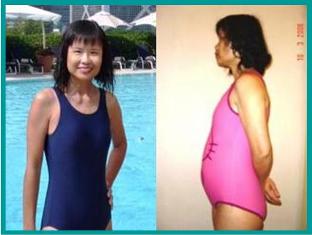 The Perfect Match
There are numerous fasting health benefits and tons of weight loss methods. However when fasting and weight loss come together, they become a perfect match. In other words, you may fail in other weight loss methods, but you won't fail by practicing fasting. Fasting for weight loss is simple and natural. You don't have to count calories or restrict food groups and you'll lose weight naturally.
The blue photo was taken in January 2010. How do I look comparing with four years ago? In fact, I manage to maintain my body weight and with improved health conditions.
Fasting for weight loss could be a slow process, however with life long effect. The best motivation to fast is HEALTH. Be patient. Give your body the time it needs to do the work for you. Here are some of my best fasting tips.
Before we start, let me share with you my fasting motto which is Starvation Mode Doesn't Exist. I wish I could hold your hands and walk you through the various ways of healthy fasting.
Anna Astor
January 2012
---
Fasting In A Nutshell
What is fasting?
Fasting is the act of willingly abstaining from food for an extended period of time.

What is short term fasting?
The most common type of short-term fasting is the 24-hour fast. However there are variations and usually won't exceed three days. Read more

Why fasting?
Weight loss, healing, detoxification, spiritual.
"I fast for greater physical and mental efficiency."--Plato, 428-348 BC
"The best of all medicines are rest and fasting." --Benjamin Franklin, 1706-1790

Who should fast?
Anybody. However pregnant woman, nursing mother or people under medication should not.

How long should I fast?
It depends on your needs. Consult your doctor if you want to go on prolong fasting.

How many kinds of fasting diets are there?
Water fasting, juice fasting, intermittent fasting, lemonade fasting…view my recommended list of Fasting Diets

How to make fasting weight loss work?
Review your eating habit; learn to control food desire; prepare for a lifestyle change…Read more

Are there books to guide me through?
Yes, here is my list of top Fasting Books

Can I share your fasting experience?
Yes, here is my Fasting Blog
---
The Modern Diet Review - Free For You
Get the truth about today's diet industry
low fat | low carb | intermittent fasting | balanced nutrients ratios

Click Here For FREE Immediate Download
---
As intermittent fasting is responsible for my weight loss success, I would like to introduce one of the top fasting books on this topic - Eat Stop Eat. And here is a good news about the book.
Introducing the New and Expanded 5th Edition of Eat Stop Eat !
With all new information on why Intermittent Fasting may be BETTER than traditional dieting when it comes to hunger, maintaining testosterone levels and even for building muscle. There's also new information on exercise and even a chapter on cleansing!

One More Special Offer for You:

Have 3 days to try out the Newest Version of Eat Stop Eat for only $9.99. Read Eat Stop Eat NOW and if you like it, you'll be charged the remaining 27 dollars in three days. If you don't like it, just return and get a 100% refund (no questions asked). Click here for your 3-day $9.99 trial.