Fasting Weight Loss Success Stories
The weight loss success stories on this page are all focusing on fasting. These are true stories from real people. Most people, including myself, fail on their first attempt in losing weight. Some even tried dozens of methods and for many months or years without any success. We want to shorten your weight loss journey and share with you our success experiences.
We won't tell you that we lost 50 pounds overnight or in a week. We will only tell facts – something that really happened to us. Don't worry if our weight loss progresses are slower than you expect. The only way for a long lasting result is to achieve your ideal weight gradually and naturally. Take your time, go fasting, and you'll be there.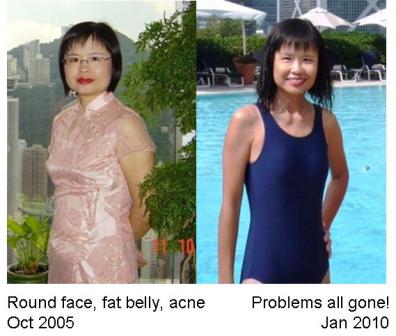 Anna Astor – lost 20 pounds in 6 months
Combination of juice fasting, water fasting and intermittent fasting
Anna is the author of this website. See her weight loss before and after photos above. She initiated juice fasting to overcome her bloating problem and achieved weight loss as a positive side effect. Read her full story.
April – lost 42 pounds in 5 months
Intermittent fasting
April's story is short and encouraging. Here's what she says:
Found this website after I started fasting! I am doing a combo of 2 meals a day 4 times a week, with one 24 hr fast. Combined with a great workout routine I quickly shed my pregnancy weight. 158 to 115! I weight 158 post partum in June 2011. It is now Oct 2011 and down to prepregnancy weight of 115.8! I don't look gaunt, I look slim yet muscular. Yeah!
Patricia – lost 15 pounds in 2 months
Combination of water fasting, juice fasting and intermittent fasting
Patricia has created her Fasting profile in this website. Read her full story.
Ms. Anonymous - Lost 30 pounds in 3 months
Combination of intermittent fasting and responsive eating
This young lady left a comment in my food blog about her weight loss success. Obviously she's my reader across my food blog and fasting blog. One of the most inspiring weight loss success stories I've received so far. Read her full story.
Beyonce Knowles, David Blaine, Billy Bob Thornton, Robin Quivers and other celebrities all praise the Master Cleanse, aka "The Lemonade Diet" for everything from weight loss to detox and restoring their energy and healthy eating habits.
Personally I don't fancy celebrity weight loss. Most of their success stories are too commercial. However as someone with fasting weight loss success experience, I had no doubt on the Lemonade Fasting Diet. People Magazine interviewed Robin Quivers and had her success story published in 2004. Click here to read Quivers's weight loss success story.
Semi-Success Weight Loss Stories
I've collected several semi-success weight loss stories. I called them semi-success because they are on their way losing weight but not yet achieved an ideal weight yet. They created profiles in my website but somehow didn't update their progresses. However they are using different kinds of fasting weight loss methods and getting some results. I believe these semi weight loss success stories should be encouraging to others.
Leo lost 20 pounds in 17 days
Leo | United States | Age: 22 | Height: 5'11" | Weight: 427 lbs | Juice Fasting
Leo said: So I started my juice fasting on May 24th, 2012. Today is my 9th day on the fast and I have alredy lost 20 pounds exactly. I'm still craving all sorts of food right now, but I am going strong. My starting weight was 447 so lets see how much I lose by the end by 60 days. Then we'll go from there.
Mick lost 20 pounds in two months
Mick | United States | Age: 50 | Height: 5'10" | Weight: 231 lbs | Alternate Day Fasting
Mick said: Began ADF on April/10/2011 at 261 lbs. Today (June/10/2011) weighed 231 lbs. I am graphing weight loss and journaling about my journey. Overall I am very pleased with the results. I am interested to hear from others who have chosen this lifestyle. I am also interested in current ADF reasearch.
Julisa | United States | Age: 22 | Height: 5'2" | Weight: 118 lbs | Water Fasting
Julisa said: I love the feeling I get when I'm on a week fast...its totally exhilarating and a breath of fresh air. I will report how much weight I lose this time on my week fast..last time I lost 11 lbs....and kept it off :D
Brianna | United States | Age: 22 | Height: 5'2" |Weight: 122 lbs | Intermittent Fasting
Brianna said: I've Lost 6 lbs so far. Obviously its water weight, but I feel better. I don't get as hungry and my stomach is already getting flatter. I'm mostly conscious of my thighs, arms and my hip area. I hope to get back down to 104, which is what I was about 1 - 1.5 years ago.
Tre | United States | Age: 48 | Height: 5'7" | Weight: 242 lbs |
Juice Fasting
Tre said: I am on day 15 of my first juice fast and loving it.
May I take this opportunity to ask Julisa, Brianna, Tre and Mick to use the form below and let us share your full weight loss success stories. Thanks.
Anna
WANTED: FASTING WEIGHT LOSS SUCCESS STORIES
If you've successfully lose weight by any kind of fasting, we would love to hear from you. Like Robin Quivers, most people didn't succeed on their first weight loss attempt. However if you can find the right way and do it in a right way, weight loss is completely possible. Share with us your fasting weight loss experience. We want to inspire more people to go fasting and enjoy the fit and healthy life that we are enjoying.

Simply fill up the form below and post your weight loss before and after photo. Look forward to hearing from you.

---